Answer:
(i) Carbylamine reaction. When a primary amine is warmed with chloroform and alcoholic potash, an alkyl isocyanide (carbylamine) is formed which gives very foul smell.

This reaction is not given by secondary and tertiary amines. Therefore, this reaction provides an excellent test for the identification of a primary amine.
(ii) Diazotisation. The reaction of aniline or other aromatic amines with nitrous acid at 0–5C to form diazonium salts is called diazotisation. Nitrous acid needed for this reaction is prepared in situ by the action of dil. HCl on NaNO2.

(iii) From amides by Hoffmann's degradation method. Primary amines can be prepared from amides by treatment with Br2 and KOH solution. The amine formed contains one carbon atom less than the parent amide.

(iv) Coupling reaction. Aromatic amines react with diazonium salts to form azo compounds in acidic medium called dyes. The reaction is known as coupling or diazo reaction. For example, aniline couples with benzene diazonium chloride to form diazo amino benzene which ultimately changes to p-amino azo benzene on warming with a small quantity of hydrochloric acid.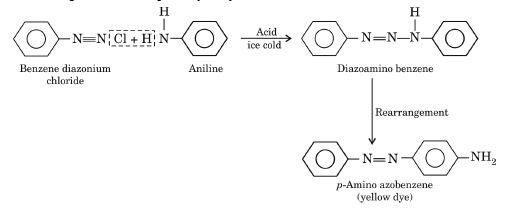 (v) Ammonolysis of alkyl halides. The hydrogen atoms in ammonia can be substituted by alkyl groups by heating alkyl halides with ammonia.

The primary amine so formed reacts further with alkyl halides to give secondary and tertiary amines and quaternary salts.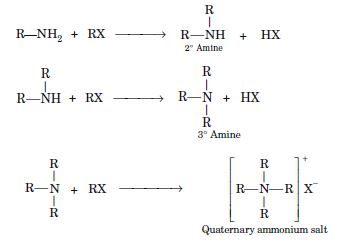 (vi) Acylation. Primary and secondary amines (which contain replaceable hydrogen atoms) react with acid chlorides to form substituted amides. For example,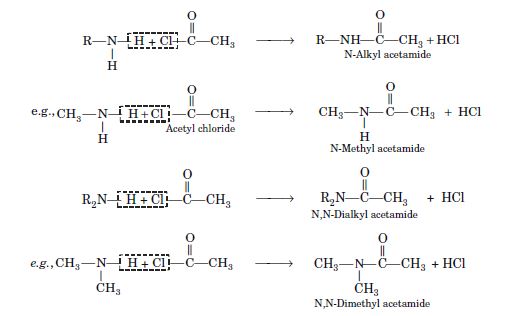 Since tertiary amines do not contain replaceable hydrogen atom, they donot react with acetyl chloride.
(vii) Gabriel's phthalimide synthesis. This method is used for preparing only primary amines. In this method, phthalimide is treated with alcoholic KOH to give potassium phthalimide, which is treated with alkyl halide or benzyl halide to form N-alkyl or aryl phthalimide. The hydrolysis of N-alkyl phthalimide with 20% HCl under pressure or refluxing with NaOH gives primary amine.


Phthalic acid can again be converted into phthalimide and is used again and again. This method is very useful because it gives pure amines. Aryl halides cannot be converted to aryl amines by Gabriel synthesis because they do not undergo nucleophilic substitution with potassium phthalimide.