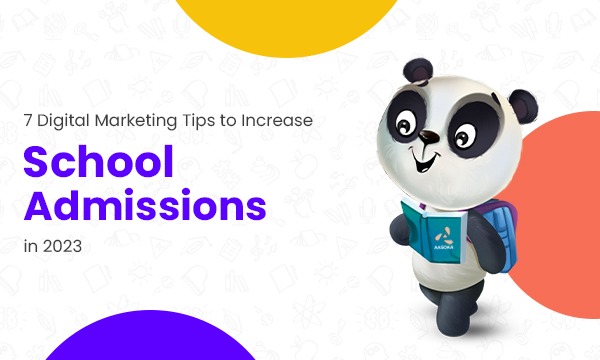 In today's digital age, schools and educational institutions need to have a strong online presence to boost their admission rates. With more students and parents turning to the internet to research the best schools for their children. A great digital strategy can help schools reach a wider audience and improve their chances of attracting more prospective students and parents. Here are some effective ways to increase student enrolment rates digitally:
1. Develop a user-friendly website: To attract prospective students and parents, schools should create a user-friendly website that is made for all devices and provides complete information about the school's faculty, campus, programs, admission process, and more. Such a website should be easy to us & operate.
2. Use social media platforms: Social media platforms like Facebook, Twitter, Instagram, and LinkedIn are great tools to reach prospective students and parents. This can help build a strong online reputation and attract more followers, who can then become prospective students. Social media platforms help with:
• Targeted advertising to specific demographics
• Wider reach because of a large and diverse user base
• A cost-effective way to promote themselves as it is generally free
• Creating a buzz via social media contests, polls to create engagement
• Direct messaging to answer questions and provide information
• Sharing success stories and testimonials from current students and alumni
3. Google local listing: Google is an easy, cost-effective and free way to create and maintain awareness about the school. Some of the benefits of having a local listing are:
• Increased online visibility in Google Maps and local search results
• Improved search engine rankings for relevant local search queries
• Detailed overview of the school, including programs, facilities, and faculty
• Reviews and ratings from current and former students, providing social proof
• Location-based targeting for reaching local audiences and driving more admissions
4. Implement SEO strategies: Search engine optimization (SEO) can help schools improve their visibility on Search Engine Result Pages (SERPs). Schools can optimize their website and social media pages for relevant keywords and phrases, create high-quality content that is shareable and linkable.
5. Offer virtual tours: A school gallery can be a great way to showcase the campus to potential students and parents from the comfort of their homes or who cannot visit in person. Schools can create and use videos to provide immersive experiences of the campus, facilities, student life and any special program that they offer. This can help prospective parents visualize their child as part of the school and make informed decisions.
6. Provide online support: Online support can be a convenient way for prospective students and parents to get answers to their queries and concerns about the school and admission process. This can help build trust and confidence among prospective students and parents and improve the chances of admission.
7. Utilize AASOKA: AASOKA provides school marketing to all member schools. It also helps to create marketing videos for schools to be shared with prospective students and parents to enhance their visibility online and showcase facilities offered by them. This includes graphic support like admission posts, invitations, leaflets, standee, banners for events like the annual day, science exhibitions. AASOKA also provides social media support and website audit. 24*7 support is also provided to every school via specially created groups so that each query is resolved at the earliest.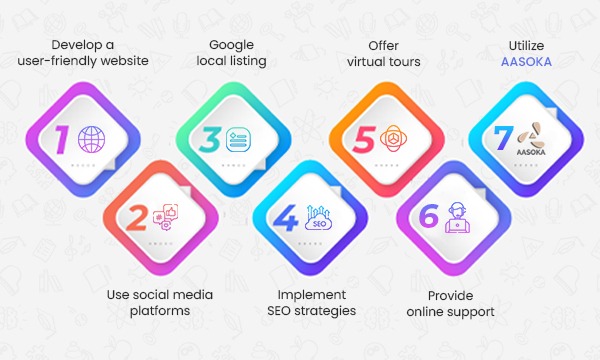 To increase school admission rates through digital means, schools need to adopt a comprehensive approach that involves creating a user-friendly website, utilizing social media platforms, implementing effective SEO strategies, and more. These measures can help schools enhance their online visibility, engage with potential students and parents, and boost their chances of attracting more applicants and improving their admission rates.