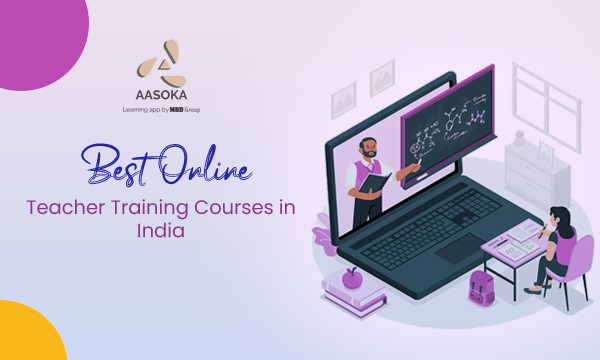 Best Online Teacher Training Courses in India
Teachers play a major role in the development and progress of society. They inspire kids to excel in life, give them a sense of purpose, and equip them for success. The best teachers can have a significant impact on the lives of their students.
To ensure that teachers are armed with effective and necessary skills and knowledge to efficiently teach and manage a classroom. These programs provide valuable guidance on instructional techniques, classroom management strategies, and student assessment methods. They empower the teachers with the necessary tools to help them in creating an engaging, inclusive classroom irrespective of the diverse background of the students. This ultimately leads to improved outcomes for the students.
Let us look at some of the best online teacher training courses that are available in India.
1. Nursery Teacher Training Courses by INTESOL Worldwide
INTESOL Worldwide is a training institute that is recognized the world over. It provides online teacher training courses for budding teachers. Two of the well-known course offered by INTESOL are:
– Diploma in Nursery Teacher Training: A course specially designed for pre-primary teachers. It focuses on the Montessori approach to teaching pre-primary students. It equips teachers with the necessary skills and pedagogical strategies to effectively engage students in pre-primary grades. It covers both theoretical and practical aspects of teaching.
– Certificate in Nursery Teacher Training: It is a short online course that focuses on childhood education and teaching pedagogies. It is an excellent course for someone who would like to start as a nursery teacher. It emphasizes a practical approach to teaching as well as classroom management techniques.
 2. Nursery Teacher Training Courses by All India Teacher Training Academy
All India Teacher Training Academy (AIITA) is widely known for their providing affordable teacher training courses.
– Advanced Diploma in Nursery Teacher Training: Students opting for this course will have the flexibility to pursue this from any corner of the world. This course is designed to encourage teachers to use teaching strategies that include play and experiential methods of learning.
– Certificate in Nursery Teacher Training: The students of this course get to know about various pedagogies involved in catering to the students of pre-primary level.

3. Post Graduate Diploma in Education and Teaching (PGET) by Asian College of Teachers (ACT)
– It is a course designed for teachers in the classroom who want to keep up with the ever-evolving teaching space. It helps them to build up their knowledge of teaching strategies, classroom management techniques as well as curriculum. It empowers them with effective techniques to teach students at the secondary and higher education level.
4. Foundations of Teaching for Learning: Planning for Teaching and Learning by Commonwealth Education Trust (Coursera)
– Commonwealth Education actively engages in the professional development of teachers and came up with this course. It focuses on helping educators understand the learning model especially when planning an effective lesson plan.
Conclusion
When the teachers are equipped with the latest teaching methods, tools, and skills, it creates a difference in the classroom in the way that lesson plans are designed, the involvement of the students, and overall learning in the classroom. The above-mentioned online teacher training courses provide budding as well as experienced teachers a boost in their knowledge and skills from some of the best course instructors, without the challenge of leaving their jobs.