Question 1:
Unicellular organisms have one-celled body.
TRUE
FALSE
Question 2:
Muscle cells are branched.
TRUE
FALSE
Question 3:
The basic living unit of an organism is an organ.
TRUE
FALSE
Question 4:
Amoeba has an irregular shape.
TRUE
FALSE
Question 5:
Make a sketch of the human nerve cell. What functions do nerve cells perform?
Answer:
The nerve cells receive and transfer messages as well as control and co-ordinate the functioning of different parts of the body.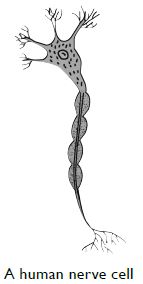 Question 6:
Write short notes on the following.
(a) Cytoplasm (b) Nucleus of a cell
Answer:
(a) Cytoplasm is a thick, jelly-like substance present between the cell membrane and the nucleus. Various cell organelles such as mitochondria, ribosomes, plastids, etc. are present in the cytoplasm. It also contains non-living substances such as water, sugar, minerals, lipid, proteins, etc.
(b) Nucleus controls all the activities of the cell and regulates its growth. A thin membrane called the nuclear membrane separates the nucleus from the cytoplasm. A small round-shaped body called nucleolus is present within the nucleus. Thread-like structures called chromosomes are also present in the nucleolus, which carry genes or the hereditary unit of living organisms.
Question 7:
Which part of the cell contains organelles?
Answer:
Cytoplasm present between the cell membrane and the nucleus contains the various cell organelles.
Question 8:
Make the sketches of plant and animal cells. State three differences between them.
Answer: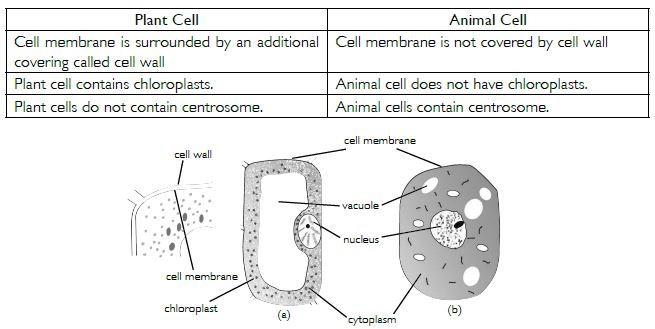 Question 9:
State the difference between eukaryotes and prokaryotes.
Answer:

Question 10:
Where are chromosomes found in a cell? State their function.
Answer:
Chromosomes are found in the nucleus of a cell. Chromosomes carry genes and help in the inheritance i.e. transfer of characteristics from the parents to the offspring.
Question 11:
'Cells are the basic structural unit of living organisms'. Explain.
Answer:
As bricks are put together to construct a building, similarly, the body of a living organism is formed of cells. All the basic life functions of an organism occur in the cell. A group of cell forms a tissue that performs a specific function. Different tissues combine to form an organ and different organs together form an organ systems which in turn form an organism. Hence, cells are referred to as the basic structural unit of life.
Question 12:
Explain why chloroplasts are found only in plant cells?
Answer:
Chloroplasts are green coloured plastids. They are green in colour due to the presence of chlorophyll in them. Chlorophyll is vital for photosynthesis as it traps solar energy and uses it to produce food for the plant.
Question 13:
Complete the crossword with the help of the clues given below: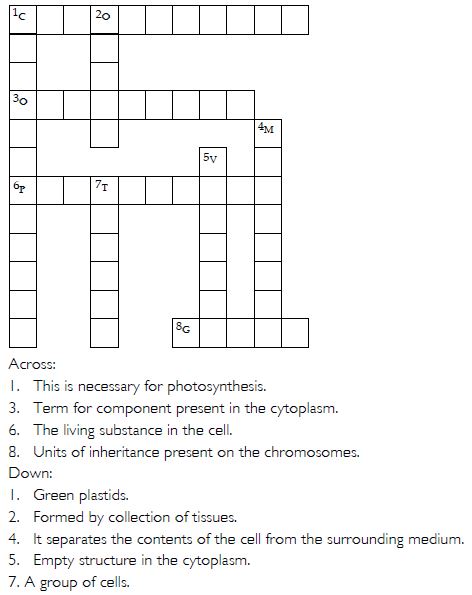 Answer: